Mass Times
Confession by appointment
Saturday Vigil 5:00 pm (Fellowship Hall)
Sunday 10 am (Church)
Monday Noon (via live stream)
Tuesday No Mass
Wednesday Noon (via live stream)
Thursday Noon (via live stream)
Friday Noon (via live stream)
Office Hours
Mon-Friday Noon-4:00 pm
New Office Hours
Someone will be in the parish office from noon until 4 PM Monday through Friday. We ask that you please try to handle matters via email or telephone if possible. If you need to meet with someone, you must make an appointment. Please call the office (304-229-8945) to schedule an appointment. Anyone who comes to the parish office for an appointment MUST WEAR A FACE MASK AND MUST MAINTAIN 6 FT. SOCIAL DISTANCING.
The best way to reach staff members is via email. You can message staff members by clicking their name on the staff tab. You may also leave a voicemail at the church office and a staff member will respond as soon as possible.
If you have a medical emergency requiring Last Rites, please call the parish rectory at 304-229-5994.
A Message from Fr. Alfred
Diocesan Directives for Reopening of Churches
IMPORTANT INFORMATION
PUBLIC CELEBRATION OF MASS REOPENING MESSAGE
By approving our Action Plan for the reopening, our Bishop has officially given us the green light to resume public celebration of Masses in our parish on Saturday, May 23, 2020. He insists that we have to maintain the strict guidelines and protocol of six feet of distancing and wearing of facemasks at all times during public celebration of the liturgy. The Bishop still left the dispensation from the obligation to attend Mass effective and strongly recommends that those 65 and older and/or those with underlying health conditions should stay home. If wearing a mask causes you discomfort or anxiety, do not forget the dispensation is still effective. After due consultation with the leadership of the major ministries in our parish, we are limiting the public celebration of Mass in our parish to weekend liturgies at this time. Our Mass schedule for weekends is Saturday, at 5:00 pm and Sunday, at 10:00 am. As I have done throughout the lockdown, I will continue to celebrate and livestream all our liturgies (weekend public liturgies and weekday private liturgy from my little chapel in the rectory). Given the exigencies of this time, our current Mass schedule is subject to change at any time. If there is any change in any of our upcoming liturgical schedule, we will keep you posted through our Facebook page, parish website and push notifications. Please stay tuned!
Because of the lack of cleaning and sanitization supplies for our pews (non-Clorox, bleach or alcoholic wipes/supplies) our Bishop has approved our request to use our Fellowship Hall as our main worship space on Saturdays and the Knights of Columbus Hall as our overflow site. Adhering to the guidelines of six feet of social distancing, our Fellowship Hall has been set up to accommodate a maximum of 50 people at a time while the Knights Hall will accommodate a maximum of 25. Volunteers will be available in our Fellowship Hall and the Knights Hall to seat people 30 minutes before mass, beginning with the front rows first. Wait to be seated and dismissed! To gain entrance into the worship space, parishioners MUST be willing to abide by the rules of social distancing, wearing of facemasks at all times, and queuing up on the social distancing marked sidewalk in front of the Fellowship Hall leading to the door sign "ENTRANCE ONLY". When we reach our maximum capacity for the Fellowship Hall, our volunteers will direct the remaining group to the Knights Hall, where they will be seated to watch the livestream Mass on the screen in the hall. Those wishing to enter the Knights Hall to watch the livestreamed Mass are also expected to abide by the rules of social distancing, wearing of facemasks at all times and queuing up in the designated area in front of the Knights Hall with floor marking that leads up to the door sign "ENTRANCE ONLY".
On Sunday mornings, we will have Mass at 10 AM in the church. All of the same protocols will be in place: face masks, 6 feet of social distancing, being seated and dismissed by our ushers. Seating capacity in the church is 150.
Everyone

(over the age of 2) coming to Mass

must wear a mask or face covering

-

there are NO EXCEPTIONS

! Do not forget to come with your own facemask. If you forget your facemask at home, based on availability, our parish is willing to provide you with one from the limited supplies given to us for this preliminary phase of the reopening by our Diocese. For the major part of the Mass, Deacon Brian and I will not be wearing masks – not because we are healthier than everyone is. Rather, by being in the sanctuary area and maintaining six feet of social distancing from each other and the congregation, we are already at a safe distance from one each and the congregation. Thus, wearing a mask would muffle our speech when offering prayers, proclaiming the Word and preaching. However, we will definitely be wearing a mask when distributing Holy Communion and at any other time, we will be in close contact with people. For example, celebrating Baptism, Confirmation, Anointing of the Sick etc. I urge you to be patient as we get used to this new way of celebrating Mass.
Prior to the distribution and reception of the Eucharist, I will give instructions on how to receive the Eucharist during this Phase II of our response to COVID-19. Our Bishop has not allowed any form of parking lot Masses or drive through communions! I will be distributing communion in the Fellowship Hall, while Deacon Brian will bring the Eucharist to those in the Knights Hall. The aisles have been marked for social distancing and there will be volunteers to assist everyone for the reception of the Eucharist. The weight of medical opinion recommends reception of communion by hand instead of the tongue. While I understand the right of the communicant to decide whether to receive communion by hand or on the tongue, I would recommend that for the safety of everyone (minister of communion included) that we receive communion by hand. Keep in mind that when you come up to receive communion everyone (including Deacon Brian and I) MUST wear a mask. When Deacon Brian and I process out after Mass, you need to wait to be dismissed row by row by the ushers/volunteers (beginning with back row first) and use the door with sign marked "EXIT ONLY" to exit the worship space. Collection baskets located at the back of both the Fellowship Hall and Knights Hall have been clearly marked so you can put your envelopes or donations. A receptacle bin has been placed on the table in the gathering space in the Fellowship Hall and Knights Hall where you can put your used worship aids for recycling.
I understand that the points I have itemized above for our reopening are quite unusual. The reason we are adhering strictly to the guidelines and protocols put out by our federal, state, local and church officials is to keep everyone safe by containing the spread of the virus. While the tasks involved in this reopening phase may seem daunting and overwhelming, with your prayers, patience, support and help from our volunteers, our proposed plan will go as smoothly as possible. If you have any further questions, do not hesitate to contact me at

[email protected]

, call the office and leave a message at 304-229-8945, email Lisa Feeley at

[email protected]

or contact the staff via Facebook Messenger. Thank you for your prayers and support! Remain blessed,
– FR. ALFRED OBIUDU
Donations Needed!
Fr. Alfred received a donation of the cleaning wipes pictures below. These wipes can be used to safely clean our pews. This product is just becoming available again, although there is usually a limit to how many can be purchased. If you would like to donate some for cleaning the church, you can drop off your donations at the church-someone will be in the office Monday-Friday from 12-4.
Live Streamed Masses
Fr. Alfred will be live streaming daily Masses on our St. Leo Catholic Church Facebook page.
Mondays-

11:30 AM-Scriptural Rosary
Noon Mass
Wednesdays-
Noon
Thursday-

Noon Mass
Friday-

Noon Mass
Sunday-

10 AM Mass
Please share this information with your family and friends and encourage them to join us for Masses. For those who do not have Facebook, please click on the link below to see the recording of the daily Mass. Click on "Videos" and you will be able to choose the most recent recording.
A Message from Bishop Brennan
To watch a video message from Bishop Brennan, please click on the link below:
https://dwc.org/wp-content/uploads/2020/06/Let-Us-Unite-In-Prayer-for-Peace.pdf
Diocese of Wheeling-Charleston Weekly Mass Link
Act of Spiritual Communion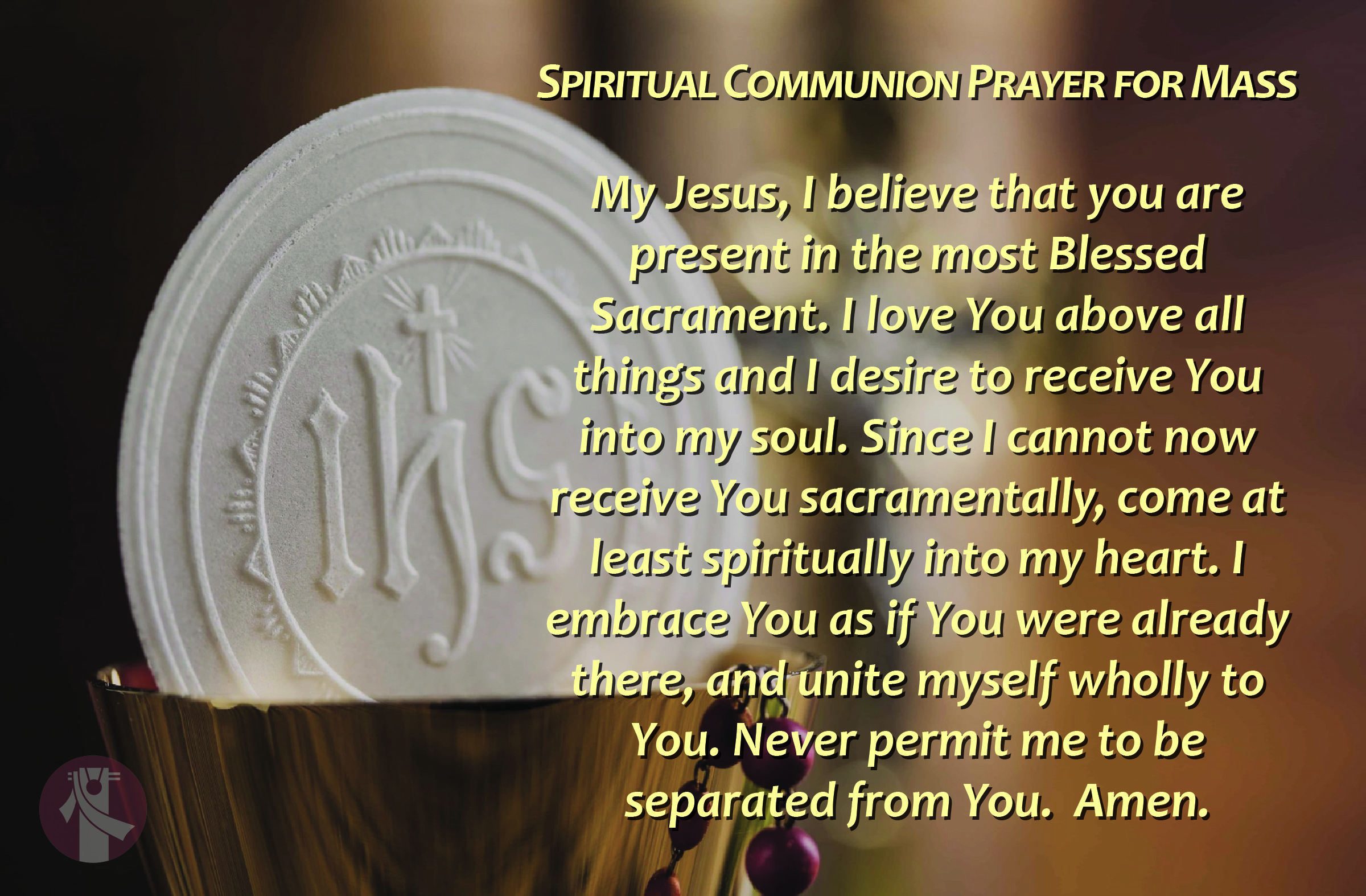 Resources from USCCB
The United States Conference of Catholic Bishops has some good resources available for us during this difficult time.
Go to:
http://www.usccb.org
Click on the Communications tab.
Newsletter
Click the link below to view a copy of the Summer edition of the Joyful Noise Newsletter!
Sight and Sound!
We are pleased to announce St. Leo Church has begun the planning and organization of another trip to Sight and Sound in Lancaster, Pa. The production for this year is Queen Esther. Our trip last year was full of fun while providing the perfect setting for Parish family fellowship. This year's trip will be scheduled to take place in early fall. All interested should contact Greg Hilleary at 304.274.9890 or [email protected] for further questions or to place reservations.
Renew, Restore, Rejuvenate Campaign
SCAM ALERT!
If you receive a text or an email saying Fr. Alfred needs a favor and asking you to make a purchase of gift cards or to send money DO NOT RESPOND OR MAKE PURCHASES OR SEND MONEY! This is a scam! Please call the office if you receive a text or email saying it is from Fr. Alfred.
Bingo!
Join us on Tuesday nights! Early Bird Games begin at 6:30 pm.
Pray for our Seminarians!
New App!
Make sure to download the new and improved app, then enable notifications by clicking on the "More" menu. Go to "Message Settings" to subscribe to general notifications as well as for group specific notifications. If you have any questions, contact Michele Bui at the church office.
Letter from Bishop Brennan
Diocesan Financial Audit
To see a copy of the 2019 Diocesan Financial Audit, please click the link below:
https://dwc.org/diocesan-financial-statements/
Knights of Columbus News

St. Leo Knights of Columbus meet on the first Thursday of each month at 7 PM at the Knights of Columbus Hall.
American Heritage Girls
The American Heritage Girls will be meeting on Sunday evenings at 6 PM.

Wreaths Across America Wreath-laying
Blue Knights News


Blue Knights News:
Blue Knights Boys Club meets on Tuesdays at 6:00 PM.


Filipino-American Ministry
Mass is celebrated on the First Sunday of each month at 3 PM. Food and fellowship follow Mass. All are welcome!