Mass Times
Confession by appointment
Saturday Vigil 5:00 pm (church and via live stream)
Sunday 9 am (church and via live stream)
Monday Noon (in church and via live stream)
Tuesday No Mass
Wednesday 7 PM (in church )
Thursday Noon ( church and via live stream)
Friday Noon (in church and via live stream)
Office Hours
Mon-Thursday 9 am-4:00 pm
Friday 9 am-3 pm
Masks are required in the building.
NEW MASS TIME!
PLEASE NOTE:
Beginning Sunday, September 5, we will have only one Mass at 9 AM.
Saturday evening Mass will remain at 5 PM.
Live Streamed Masses
Fr. Alfred will be live streaming daily Masses on our St. Leo Catholic Church Facebook page.
Mondays-

Noon Mass
Thursday-

Noon Mass
Friday-

Noon Mass
Saturday

- 5 PM Mass
Sunday-

9 AM Mass
Please share this information with your family and friends and encourage them to join us for Masses. For those who do not have Facebook, please click on the link below to see the recording of the daily Mass. Click on "Videos" and you will be able to choose the most recent recording.
Masks Required
On August 17, 2021 Bishop Brennan sent a letter to all pastors in the Diocese of Wheeling-Charleston asking that each pastor meet with his Parish Council regarding the wearing of masks. Bishop Brennan stated that he highly recommends wearing masks in the buildings, but would like each parish to make that decision at this time.
St. Leo Parish Council met and unanimously voted to require masks for everyone in the building, effective immediately. This includes wearing masks during Mass, during Faith Formation sessions, when visiting the office, and any events held inside.
Statement of the Bishops of the Province of Baltimore and the Archdiocese of Washington
USCCB Information Regarding COVID-19 Vaccines
Faith Formation Registration

Registration for 2021-2022 Faith Formation will begin on Sunday, August 1. Registration forms available in the office on Sundays after Mass. You may also register online. Sessions will be offered for children 3 and up.
***New this fall***
We are thrilled to announce that St. Leo will be offering the Catechesis of the Good Shepherd program for 3-6 year old children! Catechesis of the Good Shepherd is a Montessori method program designed to engage children and encourage a personal relationship with Jesus. At this time, we have openings in our Monday 4 PM session. Please email Michele Bui ([email protected]) as soon as possible if you are interested in registering your child for this program.
Diocesan Survey
Bishop Brennan is inviting your input on an upcoming diocesan-wide survey regarding a broad range of topics relating to the way we live and experience our faith across the entire diocese. As our shepherd, the Bishop desires to listen to God's people. This will assist him in developing a deeper understanding of the hearts, minds, and needs of the faithful. ALL are highly encouraged to participate! Parishioners will have the option of completing the survey via this link:
https://dwc.org/pastoral-needs-survey/
or manually via a paper survey. You can pick up a paper copy of the survey in the parish office or contact Lisa Feeley and one can be mailed to you.
Completing the survey should take 7 to 10 minutes. Please complete surveys by September 19. Paper copies can be returned to the parish office.
Newsletter
Click the link below to view the newest edition of the Joyful Noise Newsletter!
Renew, Restore, Rejuvenate Campaign
A Message from Bishop Brennan
To read a message from Bishop Brennan, please click on the link below:
Diocese of Wheeling-Charleston Weekly Mass Link
Act of Spiritual Communion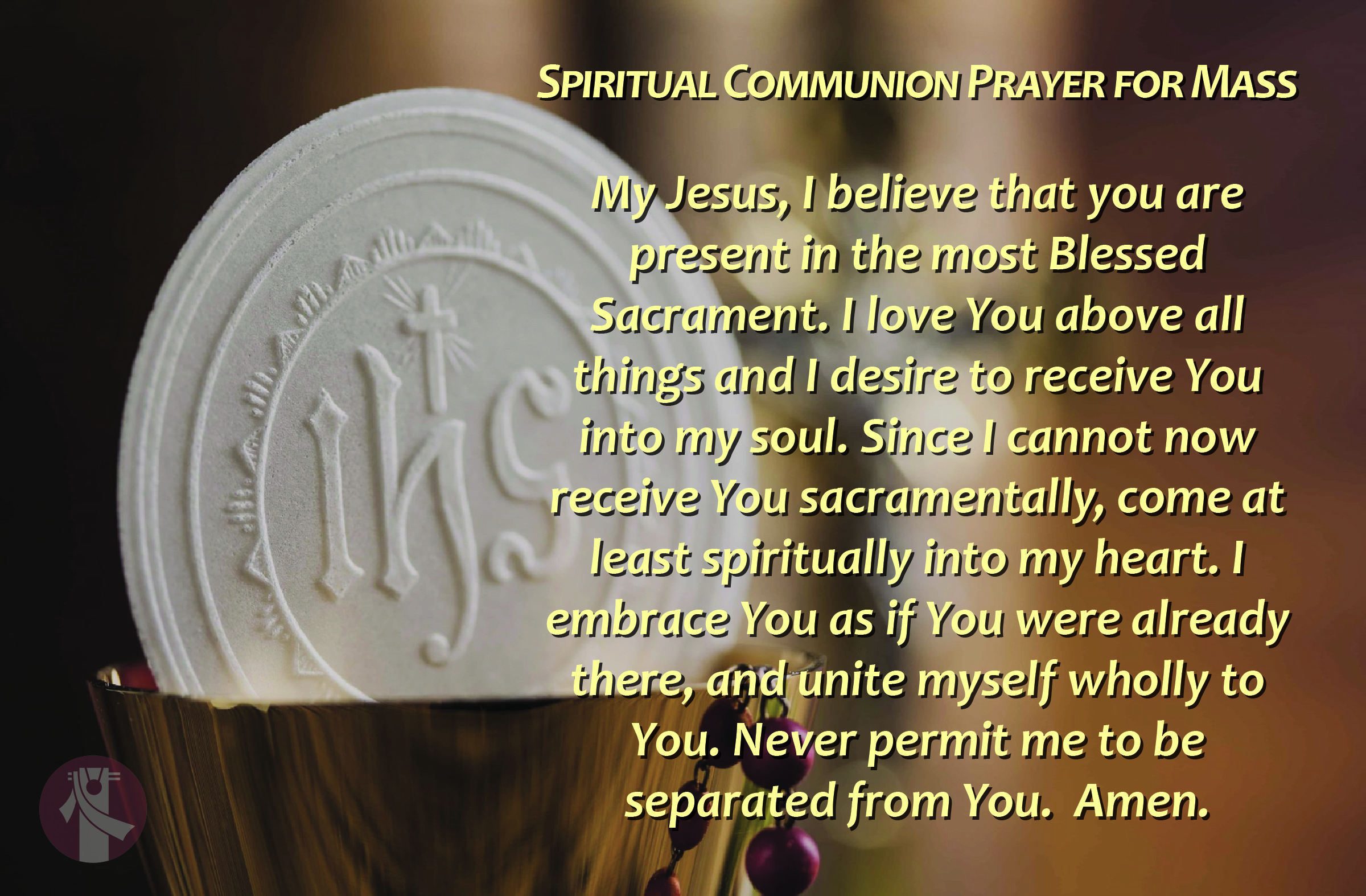 Tax Information
If you would like a copy of your contributions from 2020 for tax purposes, please contact the office at 304-229-8945 or [email protected] We would be happy to mail your copy or scan and email to you. Please provide your physical address or email address when contacting the office.
Information from USCCB
Fr. Alfred wanted to share some information from the USCCB:
To read an article regarding the Covid-19 vaccine, please click the link below:
RCIA Sessions
RCIA sessions have begun. Sessions are on Sundays at 10:30 AM. If you, or anyone you know, is interested in beginning the process of becoming Catholic, or simply want to know more about your Catholic faith, please contact the parish office at 304-229-8945.
Drone Footage
Beautiful drone footage of our property is available to view at the link below:
Leaf Memorials
Click the link below to access the form for our Leaf Memorials:
Gift Card Ministry
Consider purchasing Gift Cards through our St. Leo Gift Card Ministry this year!
Your cost is the value of the gift cards; St. Leo receives a percentage of the amount of the purchase. A win-win situation!
To place an order, email Melanie Nesselrodt ([email protected]).
For a list of the cards that are available, please click on the link below:
Amazon Smile
Please consider signing up for Amazon Smile. There is no cost to sign up and a percentage of all orders goes to St. Leo. This is a painless way to help raise funds for our parish without any extra work from you! Please encourage your friends and family to sign up as well.
Click the link below to read the newest edition of Faith In West Virginia from the Diocese of Wheeling-Charleston.
SCAM ALERT!
If you receive a text or an email saying Fr. Alfred needs a favor and asking you to make a purchase of gift cards or to send money DO NOT RESPOND OR MAKE PURCHASES OR SEND MONEY! This is a scam! Please call the office if you receive a text or email saying it is from Fr. Alfred.
Parish App!
Make sure to download the new and improved app, then enable notifications by clicking on the "More" menu. Go to "Message Settings" to subscribe to general notifications as well as for group specific notifications. If you have any questions, contact Michele Bui at the church office.
Letters from Bishop Brennan