Mass Times
Saturday 4:15 Confession
Saturday Vigil 5:00 pm
Sunday 9:00 am & 12:00 pm (Noon)
Monday 8:30 am
Tuesday No Mass
Wednesday 6:30 Confession
Wednesday 7:00 pm
Thursday 12:00 pm
Friday 12:00 pm
Office Hours
Mon-Thur 9:00-4:00 pm
Friday 9:00-3:00 pm
Office Closed
Our parish office is closed at the direction of the Diocese of Wheeling-Charleston due to the Corona virus outbreak.
The best way to reach staff members is via email. You can message staff members by clicking their name on the staff tab. You may also leave a voicemail at the church office and a staff member will respond as soon as possible.
If you have a medical emergency requiring Last Rites, please call the parish rectory at 304-229-5994.
Live Streamed Masses
Fr. Alfred will be live streaming daily Masses on our St. Leo Catholic Church Facebook page.
Mondays-

11:30 AM-Scriptural Rosary
Noon Mass
Tuesdays-

Noon Mass
Wednesdays-

11:30 AM-Scriptural Rosary
Noon Mass
Fr. Alfred's Bible Study (email [email protected] to have ZOOM info sent to you

).
Holy Thursday-

7 PM Mass
Good Friday-
Stations of the Cross 3 PM
Veneration of the Cross 7 PM
Holy Saturday-

Easter Vigil 8 PM
Easter Sunday-

10 AM Mass
Please share this information with your family and friends and encourage them to join us for Masses. For those who do not have Facebook, please click on the link below to see the recording of the daily Mass. Click on "Videos" and you will be able to choose the most recent recording.
Act of Spiritual Communion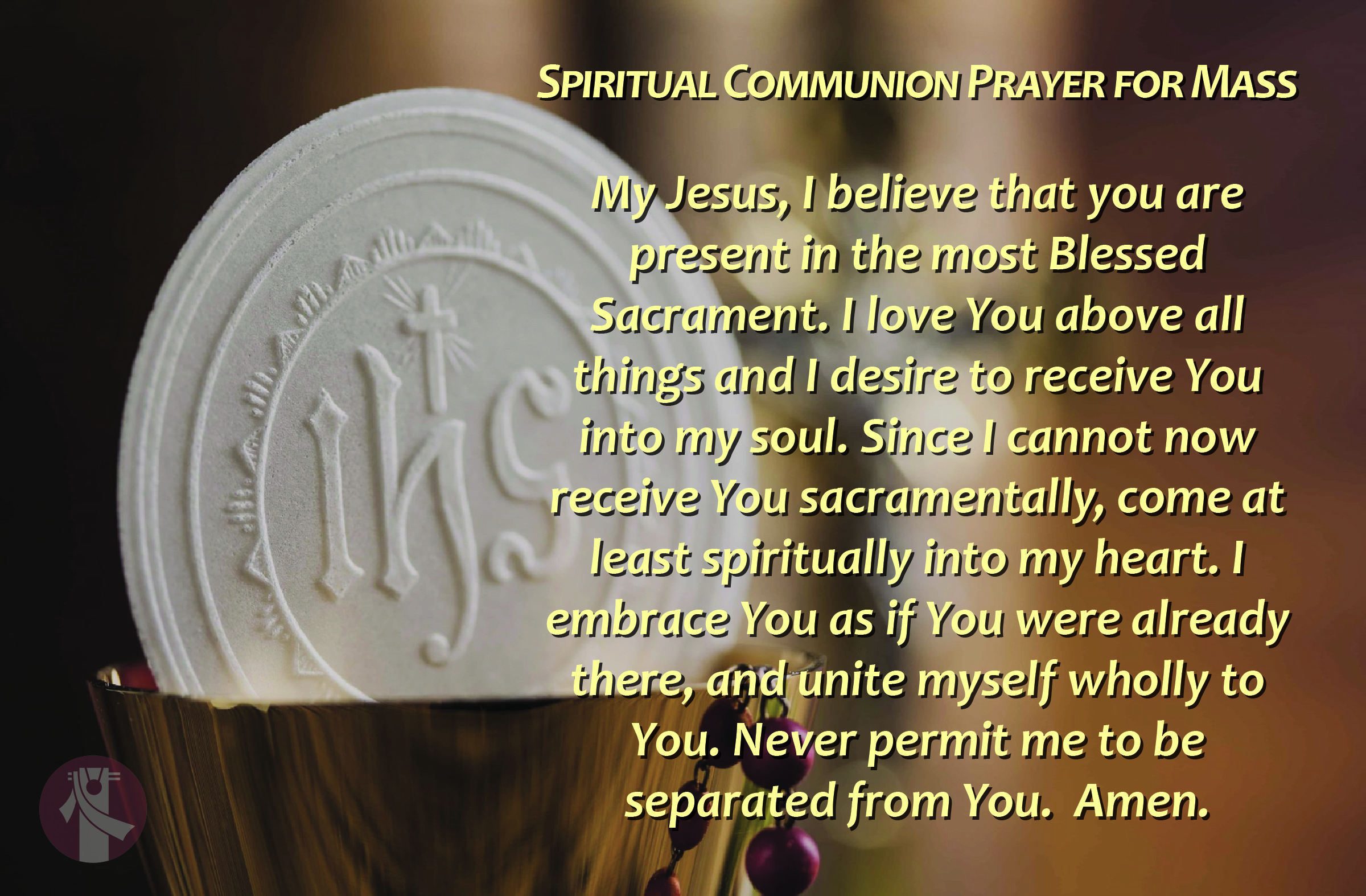 Fr. Alfred's Wednesday Bible Study
BIBLE STUDY
If you would like to participate in Fr. Alfred's Wednesday Bible Study on

April 1 at 1 PM

, please email Michele Bui ([email protected]

) by 11 AM on Wednesday morning. Once your email request is received, an email will be sent to you with information on how to join the ZOOM meeting.
Happening at St. Leo
We have received information from our Bishop regarding Holy Week celebrations. Bishop Brennan wishes to fully comply with Governor Jim Justice's call to "shelter in place". To that end, palms will not be distributed on Palm Sunday weekend, as Bishop Brennan feels the risk to the faithful and clergy would be too great. It is possible that we will distribute palms at a later date.
Masses during Holy Week will be celebrated as Father Alfred has been celebrating Mass recently-live streaming,

without a congregation.
Fr. Alfred intends to keep the same schedule as we have in the past:
Holy Thursday

Mass

at

7:00pm
Good Friday Veneration of the Cross

at

7:00pm
Easter Vigil

on

Holy Saturday

at

8:00pm
Easter Sunday Mass

at

10:00am
If there are any changes to this schedule or any additional information, we
will have the information here, on our Facebook page, and through push notifications via the St. Leo app.
It is heartbreaking that we will not be able to celebrate this most important week assembled together; but through the technological mediums available to us,
Fr. Alfred is trying to reach as many people as he can via live streaming Mass. The bishop has instructed his priests in the Diocese to take these measures to ensure the safety and well-being of all clergy and congregations in West Virginia.
Please be assured that you are all in our thoughts and prayers. God Bless you!
A Message from Bishop Brennan
To watch a video message from Bishop Brennan, please click on the link below:
https://www.youtube.com/watch?v=orri2cFwcnU&feature=youtu.be&fbclid=IwAR0PJnL5scYnGcKLRuQNaSATppR41f71T_pOGSHc-WE0_IzCeZxFKHepu6M
Diocese of Wheeling-Charleston Weekly Mass Link
Resources from USCCB
The United States Conference of Catholic Bishops has some good resources available for us during this difficult time.
Go to:
http://www.usccb.org
Click on the Communications tab.
SCAM ALERT!
If you receive a text or an email saying Fr. Alfred needs a favor and asking you to make a purchase of gift cards or to send money DO NOT RESPOND OR MAKE PURCHASES OR SEND MONEY! This is a scam! Please call the office if you receive a text or email saying it is from Fr. Alfred.
Sight and Sound!
We are pleased to announce St. Leo Church has begun the planning and organization of another trip to Sight and Sound in Lancaster, Pa. The production for this year is Queen Esther. Our trip last year was full of fun while providing the perfect setting for Parish family fellowship. This year's trip will be scheduled to take place in early fall. All interested should contact Greg Hilleary at 304.274.9890 or [email protected] for further questions or to place reservations.
Renew, Restore, Rejuvenate Campaign
Bingo!
Join us on Tuesday nights! Early Bird Games begin at 6:30 pm.
Pray for our Seminarians!
New App!
Make sure to download the new and improved app, then enable notifications by clicking on the "More" menu. Go to "Message Settings" to subscribe to general notifications as well as for group specific notifications. If you have any questions, contact Michele Bui at the church office.
Letter from Bishop Brennan
Diocesan Financial Audit
To see a copy of the 2019 Diocesan Financial Audit, please click the link below:
https://dwc.org/diocesan-financial-statements/
Knights of Columbus News

St. Leo Knights of Columbus meet on the first Thursday of each month at 7 PM at the Knights of Columbus Hall.
American Heritage Girls
The American Heritage Girls will be meeting on Sunday evenings at 6 PM.

Wreaths Across America Wreath-laying
Blue Knights News


Blue Knights News:
Blue Knights Boys Club meets on Tuesdays at 6:00 PM.


Filipino-American Ministry
Mass is celebrated on the First Sunday of each month at 3 PM. Food and fellowship follow Mass. All are welcome!